WE INVITE YOU TO JOIN US FOR OUR 2023 BARGE PARTY!
We are excited to announce the Barge Party is back again and more exciting than ever! Come join us in the Quad Cities riverfront on June 15th as we reveal our NEW headquarters and NEW Floating Classroom!
This is our biggest event of the year, with over 900 in attendance.  It brings our crew, sponsors, and supporters together for our only fundraising event of the year.
Enjoy a night of fun along the beautiful Mississippi River that includes a Fish Fry & Shrimp Boil, Wine Pull, Silent Auction, Barge Tours, Cash Bar, and Live Music By "For Those About to Yacht"!
GENERAL INFORMATION
Thursday, June 15th, 2023
5 PM - 9 PM
Beacon Harbor - East Moline, IL
PARKING & SHUTTLES
Parking and continuous shuttles will be available at John Deere Harvester Works. See map below!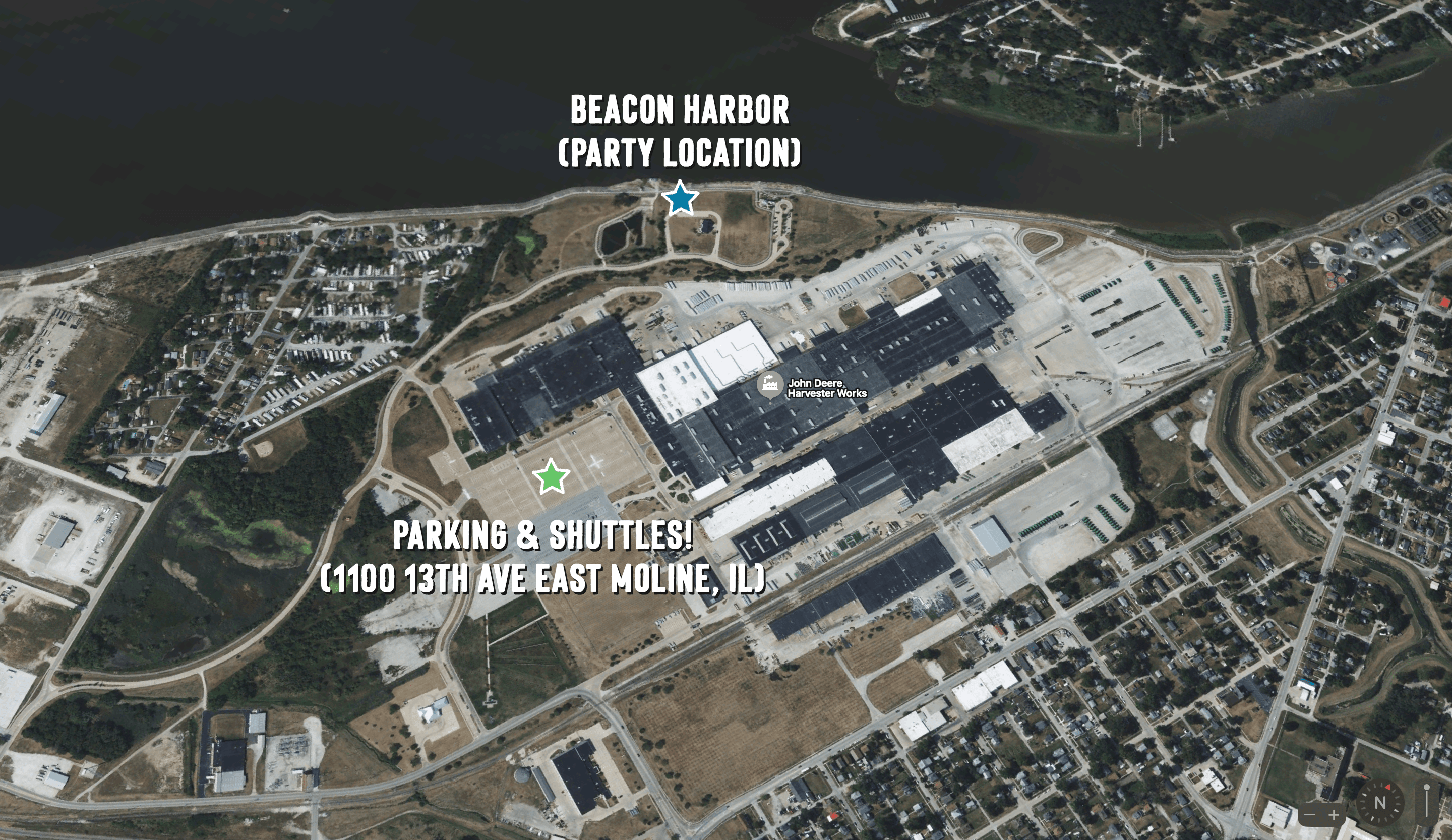 TICKETS
Individual tickets are $75 
Table of 8 is $600 - Table reservations are limited.
---
CALLING ALL ARTISTS
We're searching for local artists to participate in our 2023 Barge Party Art Auction! 
Do you love to draw? Are you a painter, sculptor, photographer, woodworker, or all-around artist? We are looking for pieces to feature in our silent art auction. We are encouraging artists to donate environmental-themed artwork made from natural, repurposed, or recycled materials, but all donations and media are appreciated! In 2003, the Barge Party Art Auction was developed, in part, by local artist Heidi Sallows, to help raise operating funds for LL&W.
The silent Art Auction will start at 5 PM and end at 7:30 PM with all proceeds being donated to LL&W
HOW TO ENTER YOUR ARTWORK:
Entry Forms can be completed online and must be submitted by June 8th as SPACE IS LIMITED.
Please include: A description of the work or projected work and make sure to send us a photo. Include any special considerations for displaying the piece. Title cards will be provided. Feel free to send us your artist bio or statement as well.
We respectfully ask that the value of your donation be a value of $100.00 or higher. When you drop off your artwork, we ask you that you fill out a donation form that will describe your work as well as give the value of the donation. **LL&W reserves the right to refuse any artwork.**
Thank you for donating your time and talent to benefit LL&W!
Artwork needs to be delivered to the Barge Party site on Wednesday, June 14th or Thursday, June 15th, between 10 AM and 2 PM. To make special arrangements, contact Megan at 309-553-0492 or megan@livinglandsandwaters.org.