ALTERNATIVE SPRING BREAK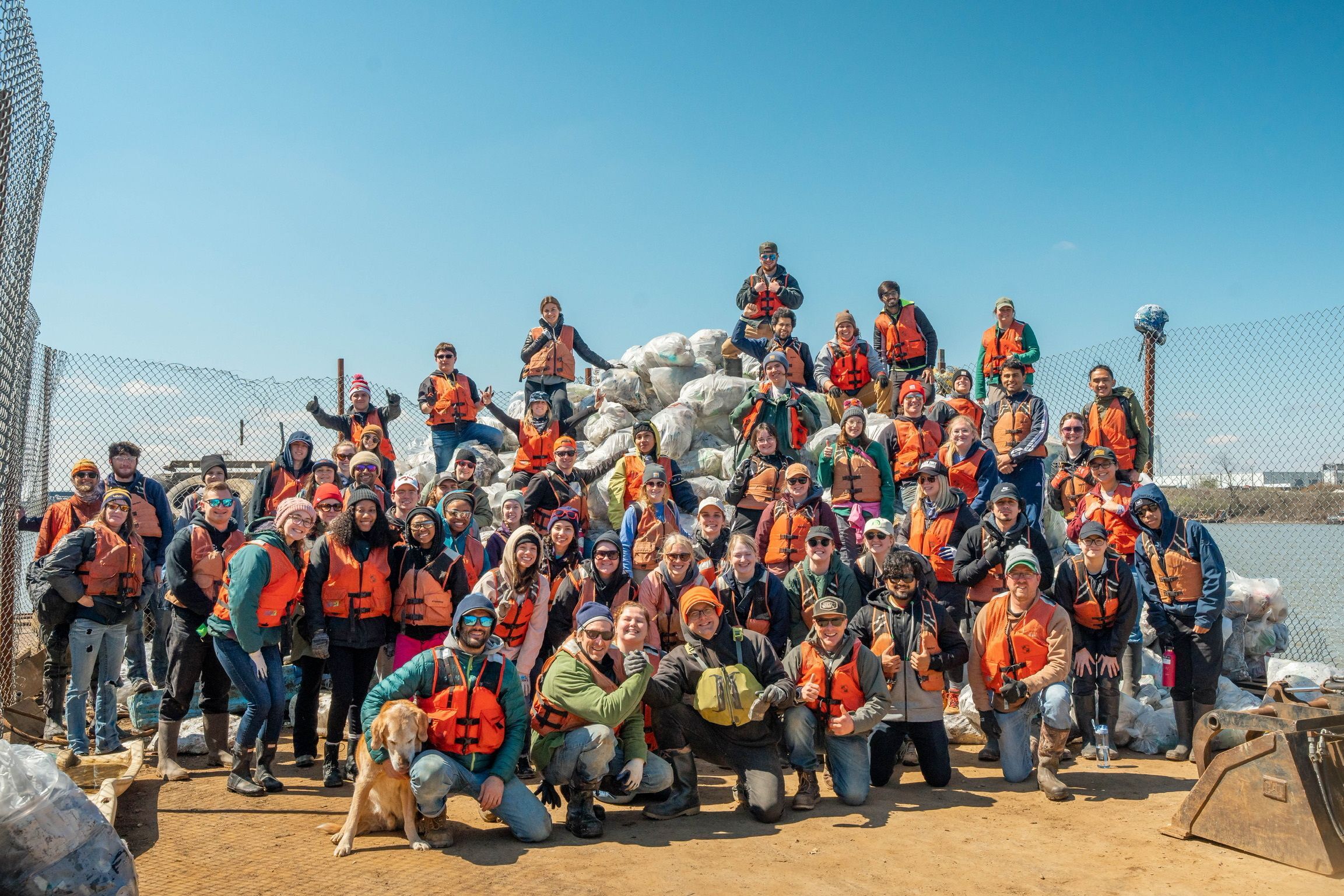 Living Lands & Waters (LL&W) is excited to announce that we are set to return to Memphis, TN for a massive month-long cleanup project for 2024! LL&W will be hosting its annual Alternative Spring Break program, bringing students from across the country to McKellar Lake. Each year, we hit the water in the spring to engage college students in the spring break experience of a lifetime. To date, we've worked with 2,228 college students from all over the country to remove 1,558,571 pounds of trash! 
Students will traverse the river on foot and in boats while working closely with our crew and fellow students. Living Lands & Waters hosts three week-long cleanups (Monday through Thursday), where students have the opportunity to meet the infamous Chad Pregracke and his boisterous crew of river rats.
Students will find out what it's like to be a part of the LL&W crew living the barge life during one of three week-long sessions:
We will be capping each week at 60 volunteers! 
Spring Break Dates: 
Week 1: March 3rd - 8th 
Week 2: March 10th - 15th 
Week 3: March 17th - 22nd 
Questions? Please reach out to Callie@livinglandsandwaters.org!
Don't know what you're getting yourself into? Check out our What To Expect/Safety Guide one-pager.
---
MORE INFO
Meals

Living Lands & Waters provides lunches on the barge Monday - Thursday. Dinner is the responsibility of the students and groups (with the exception of Sunday night). The Comfort Inn Downtown provides a complimentary hot breakfast each morning. We do encourage bringing snacks to stash in the hotel. Each room has a fridge, microwave, and coffee maker.

*Sunday night dinner at Central BBQ in downtown Memphis, TN will be provided.

If you or anyone in your group has any dietary restrictions (i.e. allergies, vegetarians, vegans, or religious restrictions) you MUST make Callie, the Project Coordinator, aware as soon as possible. If you do not disclose this before/when making your final payment, we will be unable to accommodate. We work with a caterer to provide lunch each week and need adequate notice when planning! You are allowed to bring your own lunch aboard if necessary.

Lodging

Our lodging location is at the Comfort Inn in downtown Memphis, TN.

Rooms include 2 full sized beds and can accommodate up to four people per room. Each room is around $131 per night, which when split breaks down to $32.75 a night and $163.75 for the week (Sunday night to Friday morning) at full capacity.

A $75 deposit is required to lock in your spot which will be rolled into the lodging fee for students staying at the resort; the deposit is returned to students who do not lodge with us.

The hotel also charges a nightly parking fee of $10 to park in their garage. With the exception of 3 complimentary bus parking spaces.

**Students and groups are welcome to find their own lodging accommodations. In this case only a deposit is required as payment for the program!**

Transportation

Individuals and groups will be required to secure their own transportation to and from Memphis, TN.  They will also need to have transportation to and from the boat ramp each day where we will meet for cleanups (about 15 minutes from The Comfort Inn Downtown). 

Payments

To learn more about hotel cost, please see the "Lodging Info" tab above.

All students will be required to put down a $75 deposit to lock in their spot. This money will be non-refundable and roll directly into your hotel fee (or it will be returned to you if you opt out of lodging with us).

**Deposits are due as soon as possible. Without a deposit, we cannot guarantee your spot. Final payments will be tentatively due by February 1, 2024. But the program is first come first serve.**

Payments can be made online via our donations page. Click on the donate button and be sure to make note of your group name along with the notation "2024 ASB".

Ex: 2024 ASB – Smith College

We will also accept checks made out to Living Lands & Waters. Please make sure to have your group name included and send to:

Living Lands & Waters
17624 Route 84 North
East Moline, IL 61244
Attn: Callie Schaser
---