OUR FLEET
Our Living Lands & Waters fleet includes four barges, two towboats, five workboats, two skid steers, an excavator, six work trucks and a crane. We couldn't do our work without our fleet and we invite you to learn more about our capabilities!
Climb aboard and navigate our fleet by clicking the pictures below - or keep scrolling to check out our virtual tour!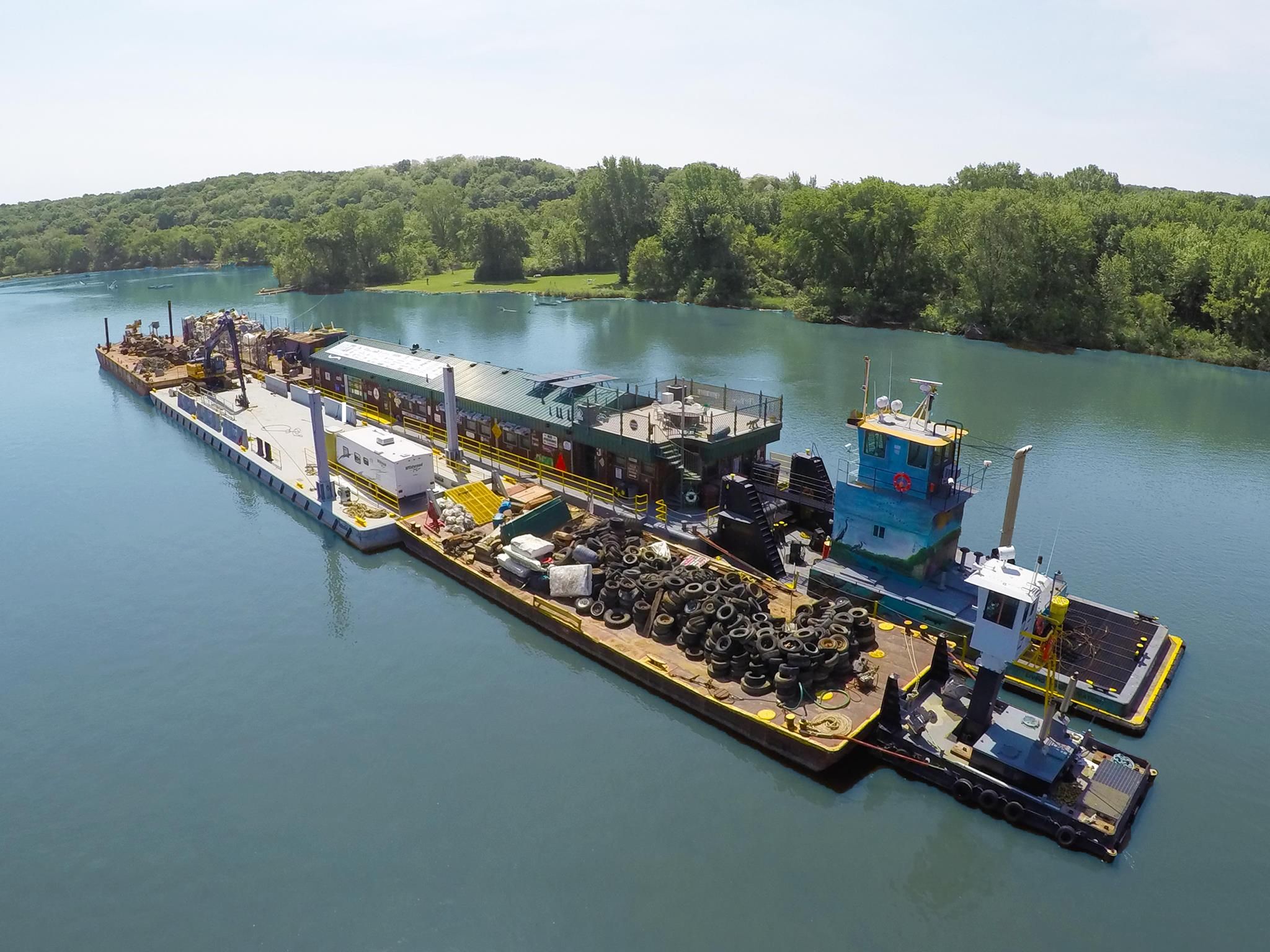 ---
CLASSROOM BARGE

 Our "home away from home" was created in 2011 and is 150′ x 35′ (under the green roof). The hull was built in 2011 by Yager Materials in Owensboro, Kentucky. The headquarters, dorm rooms and classroom were built by Union Laborers. Our house barge is powered by solar and has a generator for backup and to power our major appliances. In total, the barge has male and female lavatories, one office, a full kitchen (galley), eight bedrooms, multiple closets, a full basement for storage and a 31,000 gallon water tank.

Other eco-friendly features:

Steel trusses salvaged from a flooded strip club
Reclaimed barn tin serves as outdoor siding
Recycled license plate awnings
Fence posts on upper deck are made from stalk rolls of combine corn heads
Fencing for upper deck is recycled from steel sheets used to laser-cut farm implement parts
Railings for spiral staircase made of reclaimed rebar
Recycled barn board flooring and cabinets in kitchen
Sustainable bamboo flooring throughout the hallway, bathrooms, and classroom
Beetle kill pine wood ceilings throughout the entire interior
Eco-friendly concrete countertops in restrooms
Incorporated old bridge girders on exterior
All water conserving faucet/shower hardware
Energy star appliances
Tankless on-demand water heater
All classroom chairs are made from 25% post-consumer waste and are 100% recyclable
Bedroom carpet made from 25% post-consumer waste
Interior paint contained no VOCs

GARBAGE BARGE

(150'x35') | Built in 1966, the garbage barge is surrounded on three sides with 10-foot high fencing. Almost everything that goes on this barge is recycled at our Recycle Like A Rockstar event.

The garbage barge has an area designated for hazardous materials that we find during cleanups which are properly disposed of each year. It also has several containers which house our tools.

This barge is also where you'll find our infamous "Scary Doll Wall". A fence full of creepy (maybe haunted) baby dolls we've found in numerous rivers.

EXCAVATOR BARGE

(110' x 32') | The Excavator Barge is a true workhorse, tackling the most substantial challenges faced by our waterways. Serving as a mobile home to the formidable John Deere 210G LC Excavator, it embarks on a mission to remove large debris and restore the natural beauty of our rivers. From discarded vehicles to sunken boats and from forgotten machinery to scrap metal of all shapes and sizes, this barge fearlessly takes on the monumental task of ridding our waters of these remnants of neglect.

The scrap metal collected throughout the year is meticulously recycled, and the proceeds are reinvested directly into fueling our ongoing operations.

M/V RIVER CLEANUP

We are overjoyed to have a new-to-us towboat, the M/V "River Cleanup," after receiving a used vessel as a donation in 2022 from the American River Transportation Company (ARTCO), a wholly-owned subsidiary of ADM. 

The 750-horsepower vessel, previously named the "Nancy S.", can safely push 11 loaded barges. This upgrade will allow us to clean up hundreds of more miles of riverfront and remove millions of more pounds of garbage in the coming years. 

We're so excited to get this thing moving up and down the rivers! Thank you to everyone at ARTCO for making this happen! 

 

M/V RIVER CLEAN UP

LL&W acquired their first legitimate towboat, the M/V River Cleanup, in 2001. This towboat pulled (or pushed) its weight for more than a decade. But as the operation expanded with the addition of several new barges LL&W required more horsepower to push their fleet, in turn outgrowing this towboat.  The M/V River Cleanup 2 was purchased to replace it.

The M/V River Cleanup then spent the next 6 years at the Dubuque River Museum as an exhibit. Until it was decided that there was still use for it! In 2016 Chad decided to build the excavator barge.  This barge would need its own propulsion because it would be breaking away from the rest of the fleet for its own cleanups. A massive overhaul was done to the M/V River Cleanup to make it more suitable for the job.

The boat went through major hull modifications and was shortened to 26' in 2017. In addition to being widened to make up for lost buoyancy.  The modifications make it possible for any suitable LL&W crew member to operate it. 

 

JON BOATS

Our fleet of five custom-built aluminum plate work boats is the backbone of our operations. Ranging at 30 feet each and equipped with four-stroke Honda engines boasting 90 to 135 horsepower, these vessels effortlessly navigate challenging waters while holding literal tons of weight. These boats not only facilitate garbage transport and volunteer mobilization but also serve as vital links between the barges and the mainland for our crew throughout the year.

EXCAVATOR

John Deere 210G LC Excavator. This excavator has a custom Pierce 50' reach grapple bucket. 

Often referred to as "the game changer" this piece of equipment not only gives us the ability to pick up garbage too heavy for pure manpower, but also gives us the ability to unload our full barges with ease (cutting out the middle man)!  

SKID STEERS

Caterpillar Skid Steer Loader Series 216 - This skid steer was acquired in 2001 and lives on our barges. This machine is still as strong as it was on the day we received it. It is equipped with a grapple bucket that transports garbage and other heavy materials from one barge to another. 

 

Caterpillar Skid Steer Loader Series 257B - This machine is equipped with tracks that make it suitable for different terrains. We use it primarily at our shop in East Moline, IL. Virtually any attachment can be added to this skid steer making it extremely versatile.  From mowing the grass at our nursery and stump grinding at the I-80 Restoration Project, to swapping out boat engines and reaching the highest shelf at the shop. There's nothing this thing can't handle! 

 
Living Lands & Waters Virtual Tour