ADOPT-A-RIVER-MILE
The Adopt-A-River Mile program is an opportunity for you as an individual, family, group, organization or company to join in our clean river efforts by "adopting" a mile section of the river shoreline. In 2014, we decided to expand this program to cover all U.S. waterways. You can adopt one or more miles on one or both sides of the river shoreline. Any shoreline that you adopt is yours to keep clean. By making this commitment, you agree to help beautify, restore and maintain that section of river. River stewards unite!
---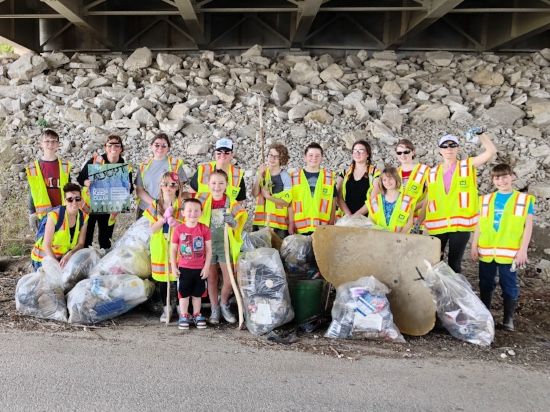 FAQ's
How does it work?

Those interested can submit a request form on our website regarding the stretch of river they wish to adopt (mile markers are ideal). If that mile(s) is available, you can officially adopt that mile and a free, permanent, outdoor metal sign displaying your name and your river mile(s) will be sent to you. New adoptees will also receive cleanup supplies (reusable gloves and bio-degradable garbage bags). Not sure what river miles are near you? Click here to view the Mississippi River chart. Click here to view the Illinois River chart.

Once you have adopted your river mile(s), you can clean as often as you would like. If you find items that you cannot remove, please document them and let us know, and we will work to get them removed the next time we are in your area.

Is there a cost to participate in this program?

No way! This is a free program.

Will I need to provide any information to you guys?

We simply ask that you periodically provide photos, reports, or stories about the time spent on your mile. With your permission, this information will be used for updating and sharing on our website and in our annual reports.

Who can I contact with questions or if I need guidance?

Contact Andrew at adopt@livinglandsandwaters.org or 309.236.1874.
To Adopt-A-River-Mile please submit the following form: